Linda Condy & Jeff Wynn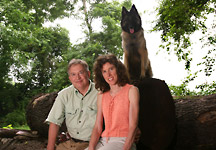 Linda and Jeff are a husband and wife team designing and making original furnishings crafted in hardwoods and traditional joinery. After completing the master of fine art program in woodworking and furniture design at Rhode Island School of Design, Linda and Jeff set up shop, hung out their shingle and established Condy and Wynn in 1985.
Our goal has always been to meet clients needs ranging from working with an architect, clergy and church committee, to helping the individual realize a design for their home or office. We design and build furnishings that are a unique expression of a worship community or for an individual.

For the needs of each client and their setting that includes the feel of their interior and exterior architecture. We constantly strive to best use our natural talents to compliment the astounding depth and variety that exists in the natural materials we use. We work to pay homage to our creator in pursuit of timeless beauty.

One of our most important tasks/steps to successful design. By paying close attention to our client's needs; we create works that are functional as well as beautiful.

We look for new ways and ideas to bring the client's wishes to a reality that will serve it's usage; for generations to come.

Pennsylvania cherry, walnut, and white oak logs are sawn and dried on the premises, yielding a selection of wide book-matched planks.